Re: How do you wear yours?
---
[ Follow Ups ] [ Post Followup ] [ Wet Clothing Forum - Rainwear Swimmers ] [ FAQ ]
---
Posted by Felix on March 19, 2019 at 09:00:58
In Reply to: Re: How do you wear yours? posted by Wetfrog on March 17, 2019 at 18:18:23: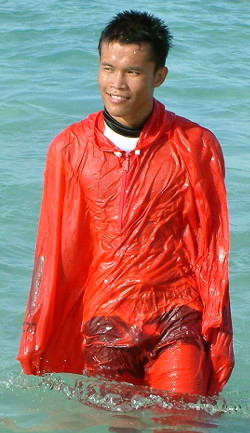 For winter swimming in England I wear a wetsuit with waterproof canoeing clothes on top, similar to you. It keeps my wetsuit clean from the sand and avoids windchill.
When I'm in Thailand, as wetsuit is way too hot. I wear my rain clothes on their own, or over thin sportswear. This is easy to swim in. Ponchos and rain capes are great fun if you're into baggy clothes.
When it rains I ride my my bicycle until I'm completely soaked. Then I put on my cycling rain cape and enjoy how the water runs off it. Cozy feeling.
Stay wet
Felix


---
---