Re: Hood up or Hood down
---
[ Follow Ups ] [ Post Followup ] [ Wet Clothing Forum - Rainwear Swimmers ] [ FAQ ]
---
Posted by Felix on April 15, 2019 at 15:45:05
In Reply to: Re: Hood up or Hood down posted by Andreas on March 20, 2019 at 08:31:26: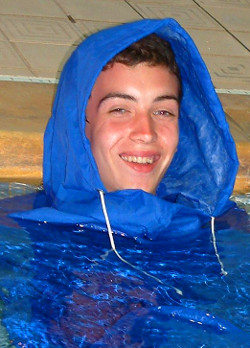 Yes, that works for me too. I'm currently in Thailand and wear my hood up for sun protection. Every now and then I lean back into the water to get it wet again and stay cool.
Most of the time I wear hooded garments, so it comes only natural for me to wear them in the water.
It's interesting to read that you always wear your hood up in the swimming pool. Good fit must be essential then, right?
Often hoods are too large and block my sight, but some fit really well and turn with my head.
Keep it up!
Felix



---
---