Soft Rain Pants
---
[ Follow Ups ] [ Post Followup ] [ Wet Clothing Forum - Rainwear Swimmers ] [ FAQ ]
---
Posted by Felix on April 16, 2019 at 00:42:37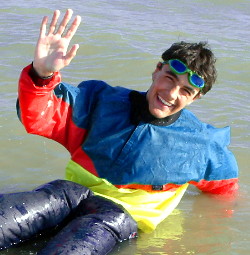 Some rain pants are made of a soft nylon that makes a swishy sound when new. After the novelty (waterproofing) wears off due to repeated use in the water they become quieter.
Like several of our readers, I have a few rain pants from Sondico which I buy one or two sizes larger as I like the extra room for comfort. In hot weather I wear them "commando", nothing underneath, which gives a lovely feeling of freedom. Unlined 1980's style silky soft football shorts also go well with them.
They are lightweight and dry quickly in hot weather. For me there is a special thrill when getting things wet or going into the water in dry clothes. Quick drying fabrics make this possible more often.
The baggy design is also known as "Harem Pants". If you wear them with no top, you may look like a middle eastern cartoon character. Hence I combine them with a water shirt, a thin hoodie, or an anorak. Great outfit for all sorts of wet fun.
Felix


---
---