Re: Swimming in heavy raingear
---
[ Follow Ups ] [ Post Followup ] [ Wet Clothing Forum - Rainwear and Sports Pool Forum ] [ FAQ ]
---
Posted by Felix on April 17, 2020 at 07:22:30
In Reply to: Swimming in heavy raingear posted by Irving U K on April 02, 2020 at 16:59:32: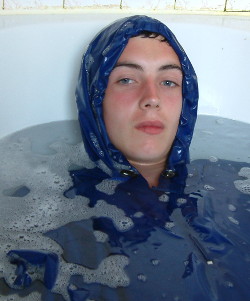 Currenly being stuck in Southern England, when the weather and tide are right, I swim in the sea.
A light nylon anorak and rain pants keep the windchill off my neoprene wetsuit. WIth booties and gloves I can just about cope with the 9'C water temperature.
When I get home, I'll take it all off in the bath tub, then put the soft rain suit back on and relax in the warm foamy water.


---
---